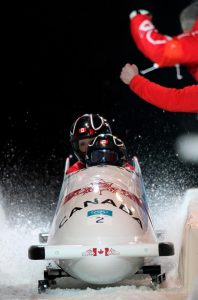 IGLS, Aut.—Canada's Kaillie Humphries and Chelsea Valois kept their podium streak alive after sliding to the silver medal on Friday at the Bobsleigh World Cup in Igls, Austria.
It was the 11th-straight podium finish for the 27-year-old Humphries who has nine victories in her last 11 starts. The only two blemishes on her record run are a bronze medal in Altenberg, Germany, and the silver in Igls where she clocked a two-run time of 1:48.66 – just .01 seconds from the gold.
"It is frustrating when you lose by that close, but I made a mistake and that cost me time," said Humphries, who has all but officially locked up the overall World Cup title. "The positive is I have never done well here. I have come third, but last year was ninth so it can go either way."
Sitting in first after the opening run after a clean bomb down the 1,220-metre track, which is located in a small mountain town above Innsbruck, the blonde-haired Canucks were on pace to win for the seventh time this year, but were edged off the podium after a small error that forced the Canada 1 sled into a skid coming out of the Kreisel corner.
"I had a great first run, but I knew it would come down to consistency today and you just can't make mistakes especially in that part of the track," said Humphries. "Now we head into Worlds and the World Cup in Russia which has been our focus all year. The pressure will build, but we are going to do what we've done all year. Chelsea and I look at each race individually and keep working hard and learning together."
Germany's Sandra Kiriasis and Franziska Bertels won the women's race with a time of 1:48.65. Kiriasis previously held the record for consecutive wins at six before Humphries shattered that mark earlier this year with eight straight victories dating back to last year.
Jazmine Fenlator and Aja Evans, of the United States, were third with a time of 1:48.70.
The silver was the 19th career podium finish for Calgary's Humphries as a pilot. The 25-year-old Valois, of Zenon Park, Sask., has a record of her own with eight consecutive medals as a rookie. After winning the Canadian Championships in her first competitive race, Valois has pushed Humphries to number one in the overall World Cup rankings this year with six golds, one silver and one bronze medal.
Edmonton's Jenny Ciochetti and Emily Baadsvik, of St. Stephen, N.B., teamed up in the only other Canadian sled to place 14h at 1:50.30.
Earlier in the day, Calgary's Sarah Reid made a charge for her fourth podium of the season in an extremely tight women's skeleton race.
Sitting in seventh spot after a bumpy opening run, the 25-year-old Reid was clean on her second trip down the Igls track to finish in a three-way tie for fourth at 1:51.17.
"We have had some tough training days in preparation for World Championships so I wasn't feeling great heading into the race. Given that, I am really happy with today," said Reid, who moved into the top-three in the overall rankings.
Hungry to qualify for her first Olympics in 2014, Reid has one gold and two silver medals this year.
"It was crazy how tight the race was today. Igls is usually close but I have never been in a race with three tied for fourth. There is no room for error here. I think that brings the best and worst out of people which is exciting."
Russia's Elena Nikitina won the women's race with a time of 1:50.46. Last week's winner, Noelle Pikus-Pace of the United States, celebrated the silver medal with a time of 1:50.73, while Russia's Maria Orlova rounded out the podium in third at 1:51.06.
Mellisa Hollingsworth, of Eckville, Alta., was 12th at 1:51.70, while World Cup rookie, Cassie Hawrysh of Brandon, Man., placed 17th at 1:52.03.
The World Cup continues on Saturday in Austria with men's bobsleigh and skeleton racing.
Bobsleigh CANADA Skeleton is a non-profit organization and the national governing body for the sports of bobsleigh and skeleton in Canada. With the support of its valued corporate partners – Dow Chemical, Adidas, KBC Helmets, Eurotech – Viking Engineering, SAIT Polytechnic, Conceptum Sport Logistics, Therapeutica – along with the Government of Canada, Canadian Olympic Committee and Own the Podium, Bobsleigh CANADA Skeleton develops Olympic and world champions. Please visit us at www.bobsleighcanadaskeleton.ca.
Complete Results: www.fibt.com
Top-Five Women's Bobsleigh Results:
1. Kiriasis/Bertels, GER 1, 1:48.65; 2. Humphries, Calgary/Valois, Zenon Park, Sask., CAN 1, 1:48.66; 3. Fenlator/Evans, USA, 1:48.70; 4. Schneiderheinze/Thone, GER 3, 1:48.86; 5. Meyers/Eberling, USA, 1:49.21
Other Canadian Results:
14. Ciochetti, Edmonton/Baadsvik, St. Stephen, N.B., CAN 2, 1:50.30
Top-Five Women's Skeleton Results:
1. Elena Nikitina, RUS, 1:50.46; 2. Noelle Pikus-Pace, USA, 1:50.73; 3. Maria Orlova, RUS, 1:51.06; T4. Janine Flock, AUT, 1:51.17; T4. Sarah Reid, Calgary, CAN, 1:51.17; T4. Michelle Steel, AUS, 1:51.17.
Other Canadian Results:
12. Mellisa Hollingsworth, Eckville, Alta., 1:51.70; 17. Cassie