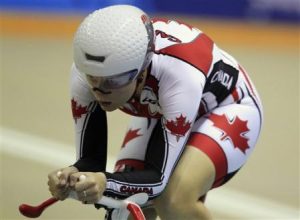 Aguascalientes, MEX – Canada started its 2013 UCI Track Cycling World Cup season on a golden note, taking the top honours in the Women's Team Pursuit in Aguascalientes, Mexico, on Thursday.
The three women – Jasmin Glaesser of Coquitlam, BC, Gillian Carleton of Victoria, BC and Stephanie Roorda of Vancouver, BC – defeated the Ukrainian team in the ultimate race.
In the morning qualifications, Canada easily posted the fastest time of the group of eight teams entered in the race, posting a time of 3:19.468, more than four seconds faster than Ukraine, the second fastest team.
For Glaesser and Carleton, this golden race comes on the heel of their bronze medal performance at the 2012 Olympic Games in London, GBR, at their first international race since the Games.
"These were good rides for us because have not raced as a team since the Olympics. It's encouraging to have two technically sound rides considering the lack of riding together leading up to the World Cup. The results certainly bodes well coming into the UCI World Championships. I am especially proud of the team for having well handled the small hiccup at start of the final race. We demonstrated professionalism and the fact that we are a world class team," said Carleton, of the World Cup podium.
Tanya Dubnicoff, the Women's Team Pursuit coach, was thrilled with the races: "This season has been a short season and to have the team perform the way they did was excellent. They executed the ride like veterans. This experience will only help with our goal of continuing World class performances, in lead up to the 2015 Pan-American Games [in Toronto]."
World Cup action resumes today, Friday, for the second day of competition of this three-day event. Results and live timing can be found at MailScanner has detected a possible fraud attempt from "guynf.us4.list-manage.com" claiming to be www.tissottiming.com.